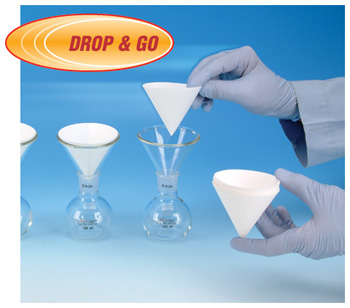 PRE-FORMED CONICAL FILTERS INCREASE ORGANIC LAB PRODUCTIVITY AND REDUCE COST
Xenosep Technologies has introduced FunnelFit(TM) Pre-Formed Conical Filters for organic extract drying applications. Designed to fit the funnel perfectly every time, FunnelFit Filters eliminate the unnecessary cost of expensive solvents used to "wet down" and keep quadrant folded or pre-pleated filters in the funnel.
Using Xenosep FunnelFit Filters is up to 10 times faster than using conventional filters and ensure reproducible high quality results. Inconsistent and time consuming preparation steps which cause sample bypass, tip blow-out, and contamination issues are eliminated. Available in 3 Quantitative Ashless grades, FunnelFit Filters are conveniently packaged in stacks of 100 for fast and easy handling.